The design development of the hexi-house – part 3
While retaining the concept of a lightweight structure, made from sustainable materials, the Hexi-House design has now gone through a radically reappraisal and we have decided to abandon the original idea of a funnel shaped roof. The central downpipe has been removed and the inward sloping roof has been replaced with a simpler six-sided roof with a central apex, thus enabling rainwater to drain out to the perimeter on all sides.
The external walls have been arranged in such a way as to be perpendicular to the roof, sloping in towards the base at the same angle as the main roof supports.
With the six outer posts locked tightly into metal sockets at floor level, the remaining wall supports have been set out in such a way as to allow for a door or window to be inserted where required.
This construction was developed further by firstly building a 1:20 scale model, which allowed us to explore the versatility of the interior.
Two beds, that are wall mounted during the day, can be put up at night at waist height (one to each side of the central passage way) to ensure the interior has sufficient space to accommodate a family of five.
A larger 1:10 scale model was later built to explore the relationship between the structural frame and the external wall / roof cladding.
Two adjustable fold up windows were formed on opposite sides and these, along with controllable vents in the door and a trickle vent at the apex of the roof, offer a number of permutations for introducing natural ventilation to the interior. A mosquito screen will also be fitted to each window where necessary.
Hexi-House is intended to be medium term, disaster relief shelter with an anticipated design life of 3 to 5 years. Each house will arrive on site, flat packed on two pallets and in kit form. It can be assembled within a matter of hours with no need for skilled labour. Once completely built, everything will have been utilized including the wooden pallets, thus minimizing wastage on site.
It will be built mainly from reinforced, waterproof cardboard and timber making it light and easy to transport. We are currently proposing a range of bolt on features such as canopies and are giving further consideration to the interconnectivity of the individual modules.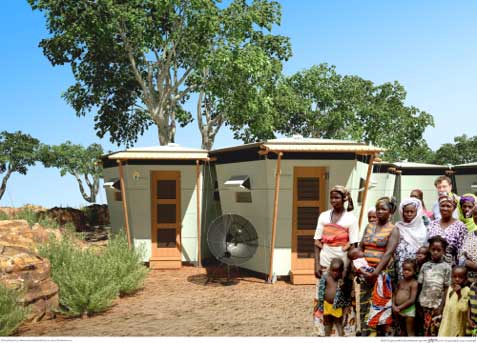 The hexagonal shape enables individual houses to be connected up to form modular structures and the rainwater-harvesting feature, which was such a key element in the earlier designs, has been reintroduced where houses are in clusters of three.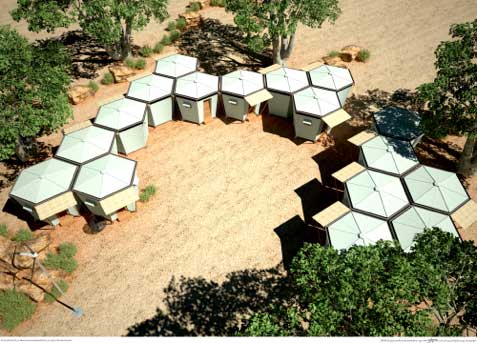 We would like to thank Design4Disaster for providing us with the opportunity of illustrating the development of our Hexi-House concept over these three phases. We have enjoyed this process enormously and are sufficiently convinced of the merits of this latest design that we are now planning to build a prototype with a view to launching Hexi-House on the market within the next twelve months. We hope you enjoy our animation and  would welcome feed back .If you require any further information on Hexi-House please visit our web site at: chris@hexihouse.com.
Acknowledgements: Many thanks to Colin at 3dpix for architectural visualization , to Simon at Naim Audio Ltd for  backing track 'Inflight' taken from Stuart McCallum's 'Distilled' album 2011
James Rooney, Head of Design, Hexi-House