The Design Development of Hexi-House – Phase 2
Since July 2012, father and son team Jim and Chris Rooney have been working on Hexi-House – a new easy-to-assemble and sustainable housing solution designed to be deployed for disaster relief. In September Designs4Disaster featured phase 1 of the design development where the team outlined their core concept for the product and provided some early sketches highlighting their key design objectives.
These can be summarised as follows:
To design an emergency shelter for a 5 person family that would be built largely from light weight recycleable materials with a design life of between 3-5 years.
To utilise the entire roof  as a water  catchment facility enabling rain water could be  captured, filtered  and piped into a storage vessel  for future use.
To explore the full potential of the hexagonal plan form as a modular unit in a larger metrix – such as a honeycomb structure or the stone columns of the Giants Causway.
To design the house to ensure it could arrive on site in a flat packed kit format allowing it to be assembled quickly avoiding the need for skilled labour.
3D Modelling of the Designs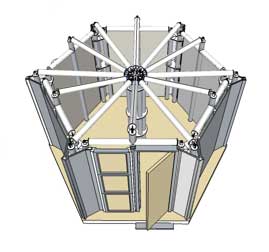 With these stated objectives and their preliminary concept sketches Jim and Chris commissioned final year architecture student Albert Tobin to produce a number of 3D images of the house in order that they could take a closer look at its strengths and weaknesses.
With the design of the main structural elements resolved attention then turned to the external cladding and roof. The exploded diagram below highlights all the key components:
The twelve paneled funnel roof.
The triangular infill elements with integral hit and miss ventilation.
The roof structure.
The roof / wall supporting structure.
Dual skinned cardboard enclosure on raised timber pallets. Steel spikes with supporting sockets will be used to ensure the outer posts are rigidly secured.

The provision of a door/ louvered screen on one of the 6 sides will combine with vents, in some of the upper triangular panels, to provide a wide range of ways to naturally ventilate the Hexi-House.
Although the central array of posts helps to reduce the spans involved and provide enclosure to the down pipe, the team has since expressed concerns that it may restrict the versatility of the internal space.
Determined to hold on to the feature of a water capture roof, the team now intend to make the water storage vessel more accessible and explore the possibility of moving it out from under the floor.
The team now intends to explore these modifications further over the coming weeks and in the third and final feature they plan to fully demonstrate the final Hexi-House design without having to compromise any of the main objectives which they have set out to achieve from the outset.
To follow Hexi-House's progress please follow us on twitter at @hexihouse or visit our website at www.hexihouse.com