Standardization for Refugee Camps
Standardizations for the basic size, lay-out, and structure of refugee camps have been defined by the Sphere Project, which was launched in 1997 by the UN and several NGOs, with the mission to improve the quality of relief aid.
Results have been published in a handbook, on the organization's website and are promoted by training sessions.
Information about the standardization of refugee camps can be found in the "Chapter 4: Minimum Standards in Shelter Settlement and Non-Food Items". Médecins sans Frontièrs have also created an informative website explaining the living conditions of refugees.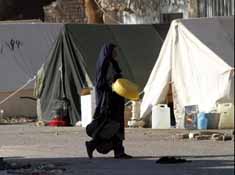 Size: A camp with 30-45m2 of private and public ground per person should be planned, 3,5m2 of sheltered private space is needed per person (in winter 4,5 m2.).
Lay-out: Setting up tents in simple rows can happen fast. But this can diminish privacy and community building and it weakens the social stability of the camp.
Clusterization: By grouping tents, setting them in a circle around a meeting point in the centre, communities are created. These communities are further strengthened by communal facilities such as water sources and divisions by roads. By providing both more privacy and community building, this structure supports the social stability of the camp.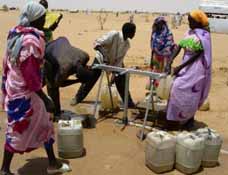 Roads: They must be laid out such that each part and each household of the camp is equally accessible and has the same access to public facilities. Roads also function as emergency routes and fire breaks.
Water and Sanitation: One water source is to be planned for 250 persons and one sanitation facility for 20 persons, distributed on the campground such that each inhabitant has equal and easy access to a water source at a maximum of 150m, and to sanitation facilities, 30m. The distance between water and sanitation has to be at least 100m.
Administration & Registration Centre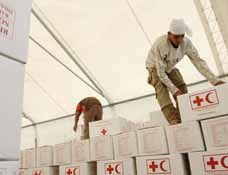 Arriving refugees are registered to keep track of their number and composition, to order needed aid goods and medication and to observe any arising conflicts. Also, accommodation for staff is needed.
Storage and Distribution: Central Ware House and Distribution Centre in different locations of the camp ensure the equal distribution of relief goods.
Centralized Health Care Centre: Including hospital and pharmacy, nutrition centre and a cemetery are needed.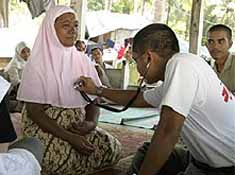 Social Facilities: Schools, markets, and meeting places should be provided. A visitors centre is also useful.