PowerCube Pop-up Solar Generator Provides Relief to Disaster-Struck Areas
It was seven years ago that Ecosphere Technologies revealed its first iteration of a self-contained relief unit for disaster-struck areas. The company has since been busy refining the system's form and function and has now announced the completion of what it says to be the world's largest deployable solar power generator. Capable of generating 15 kW of electricity, PowerCube is transported as a standard shipping container and can morph into a solar-powered shelter, water treatment plant and communications base, all with a push of a button.
Like other disaster relief units, such as the QuickHab and Apparatus X, PowerCube was inspired by what was widely perceived as an inadequate response to 2005's Hurricane Katrina. Though disaster relief was the main motivation for its development, Ecosphere is also touting the potential of the PowerCube in applications such as military and humanitarian aid.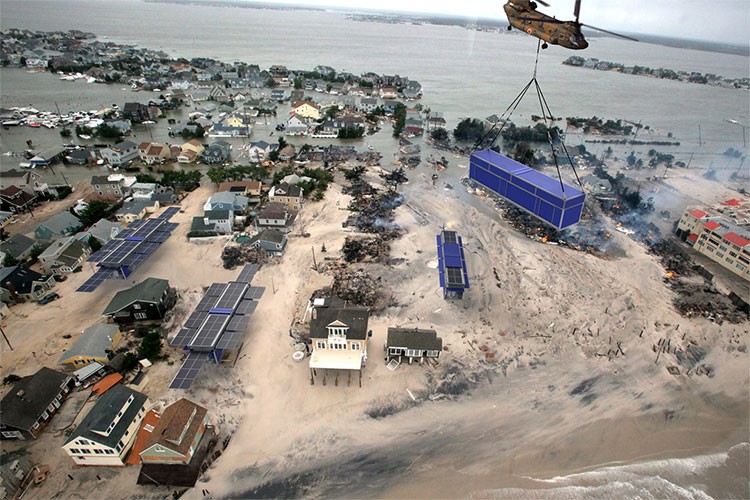 Available in three sizes, the pop-up power station can be transported by truck, train, boat or plane and installed anywhere with enough space to accommodate a 10-, 20- or 30-ft standard ISO shipping container. Once deployed, it uses a patented drawer system whereby hydraulic actuators and roller assemblies slide the photovoltaic solar arrays out beyond the container walls, significantly expanding the power capacity of unit.
This electricity is then used to power onboard systems for internet, satellites and also wireless connectivity up to a range of 30 miles (48 km). Excess power can be directed toward external use, such as hospitals and schools. The first mode reportedly uses onboard atmospheric generators that draw water from the air, meaning PowerCube is able to produce water without a source, regardless of its location.
The company says it is ready to commence demonstrating the PowerCube and will begin seeking out strategic partners across different industries to find real-world applications.
By Nick Lavars – July 1st, 2014
For more information on the PowerCube please visit Ecosphere Technologies website at: http://www.ecospheretech.com/environmental-engineering-technologies/powercube