ART.FAIR and Habitat for Humanity

ART.FAIR, the third largest art fair in Germany, bring together art lovers and connoisseurs in Cologne from 1 to 4 November 2012. Habitat for Humanity Germany is joining this event. The international charity shows a photo exhibition of authentic situations of people in poverty dwellings.
Because pictures often speak louder than words, the charity draws attention with selected photos of the photographer Mikel Flamm to slum housing and raising awareness among the visitors. Mikel Flamm documents the lives of many needy families worldwide for many years.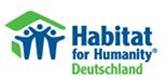 Art encourages the viewer to critically view and to act. Habitat for Humanity wants in this way raise awareness of life which differs from our normal life that we know.
Featured image: © Mikel Flamm / Habitat for Humanity Asia-Pacific