SafeRhouse
A team of designers from the MIT and the GSD, and the humanitarian NGO Prajnopaya, have developed and built a construction concept for family houses that are resistant to the impact of the force of a tsunami.
The analysis of the remains of houses devastated by the Tsunami revealed that while roofs had disappeared, a part of the vertical walls was still standing, and those still standing were those turned perpendicular towards the seashore.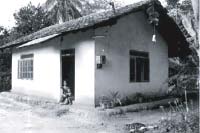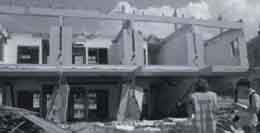 In the new construction concept deriving from this observation, it was determined that instead of the whole house, only the walls have to be turned perpendicular to the seashore and constructed of massive concrete blocks. The roof is attached to these blocks. The openings between the blocks can be filled with various materials, e.g. bamboo partitions. In case of a tsunami or a flooding the water can stream through the concrete blocks which remain supporting the roof. Only the light bamboo fillings might be swept away.
A raised platform at the bottom facilitates water drainage underneath.


The advantages of this concept is the design that is adapted to the forces of the sea, the low-tech construction and materials that make the design economic, the flexibility and expandability according to the inhabitants' wishes, and the climatic comfort gained by porosity of the walls in hot climates.
The house has been constructed in Sri Lanka by Prajnopaya. The design has won the competition "The Tsunami Challenge: After the Tent." hosted by the MIT ( Massachusetts Institute of Technology).