Refugee Wear
Refugee Wear / Body Architecture by Lucy Orta
Since the early 90s, British born, France residing, Lucy Orta engages in designing garments for refugees and homeless people that can be transformed into tents as an artistic statement about their situation.

Inspiration was evoked by the miserable situation of Kurds fleeing Irak in the early 90s. The image of people wandering in the cold through sparse landscape inspired the design of wind and waterproof overalls that can be transformed into tents. The image of a group of people gathering at the end of the day, taking off their coats andzipping all of them together to construct a common tent with strange hoods, arms and legs sticking out was created. The number of overalls that can be used is unlimited. Each garment contains a set of pockets to carry along essential goods.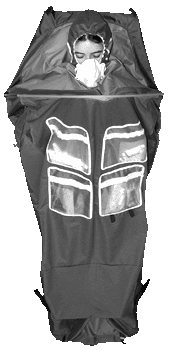 An alternative option is to have one huge garment with several hoods and arms, beneath which more than one person can squat.
The project has been broadened to include homeless people, these garments turn into sleeping bags, with extra mouth protection against the city smokes. The forces driving the conception are those of protection, warmth and community.