Icosa Village
Icosa Village designs and produces "the pod", an intermediate shelter system constructed out of triangular panels, inspired by the geodesic structures of Buckminster Fuller.
First, each triangular panel, consisting of a broad frame and a centered window opening, is folded from three pre-cut extruded polypropylene sheets to turn into a three dimensional body, 17,4 cm thick, with a hollow void inside. Then, the window panels, double walled just as the frame, are set in.
After placing a base ring at the bottom, the panels are set together by taping to shape an icosahedron, a spherical structure comprised of 20 equilateral triangles. Two sizes exist : The IcoPod is constructed from 15 panels, with a diametre of 3,9 m, suitable for a small family. For the larger DecaPod, each of the 15 triangles is formed by four panels, the whole structure consisting of 40 panels, with a diametre of 7,8 m, intended for bigger groups.
There are extra components for connecting pods, for doors, ventilation windows, etc.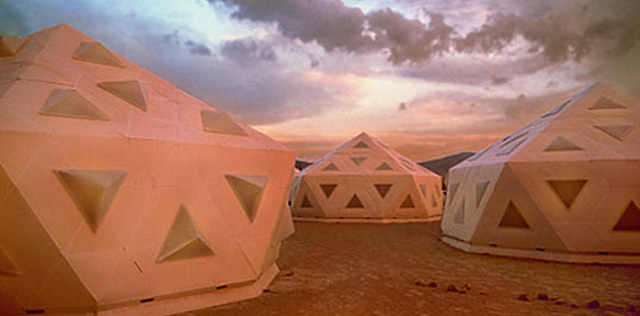 The structure of triangles produces a positive relation of the implemented amount of material to achieved stability. The void inside of each panel can by opened for air flow, functioning as a ventilation and cooling mechanism, when closed to air flow, the layer of air provides insulation. The panels can be additionally insulated by inserting fiberglass batt into the void. Thus, the pods provide protection against any weather condition, heat and cold, storm and rain.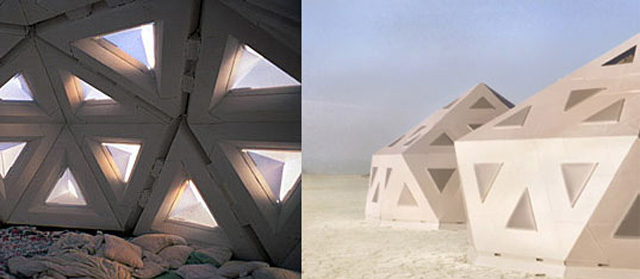 The construction technique of delivering flat sheeting that is to be folded on-the-spot reduces the package size. Cutting the panels requires only simple technology and can be executed at many locations in the world. Production close to the site of use could be organized to limit logistic efforts and strengthen local economies.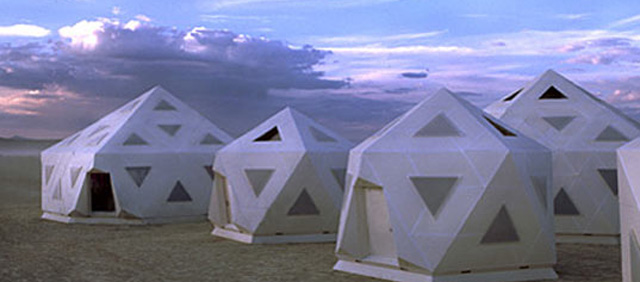 The pods have been tested by MSF médecins sans frontièrs in the earthquake shattered region of Kashmir.