Building Letters / Font Aid
Font Aid is a project initiated by the SOTA Society of Typographic Aficionados and by Building Letters, in an effort to contribute to the typographic work of designers and to raise money through sales for victims of disasters and people in need.
Building Letters is an annual graphic publication whose profits are donated to charity projects in developing countries. The second edition of the magazine featured Indian design, interviews with top designers and includes two posters and a disk containing fonts donated by top-designers. In its third edition, the publication has merged with Font Aid.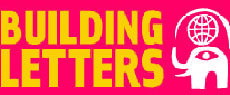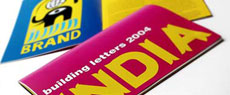 Font Aid is initiated by SOTA, with the goal of collecting font donations in order to raise money for philanthropic opportunities. The publication is now in its third edition. The first edition in 1999, contributed its funding to UNICEF in order to help war and disaster refugees. The second edition was dedicated to the victims of September 11th through donations to the Red Cross. The third edition supports the victims of the Southeast Asian Tsunami through Direct Relief International.
The second edition dedicated to September 11th consisted of 100 question mark glyphs, each designed by a different typographer. The victims of the Tsunami are honored by fleurons symbolizing a tribute to those who have died, and new hope for those who have survived. As more than 400 glyphs were handed in, each replaces a letter, a number, a mark, or a combination of letters. 220 typographers from over 20 countries from all over the world have contributed. The fonts can be purchased on MyFonts.